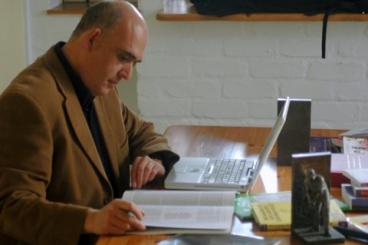 Russell is in a unique position as his career has spanned the fields of education, international affairs and the voluntary sector. His time in education is supplemented by the period he spent at the Welsh Centre for International Affairs where he was UNICEF's advocate and representative in Wales and became very involved with development and humanitarian issues, particularly as a consequence of visiting UNICEF's projects in a number of India's largest cities.
In 2011 Russell was asked by the British Library to provide advice and guidance on the creation of a new website resource for the London Olympics. In addition, he has worked with  Sport Wales on issues relating to political advocacy in conjunction with the Welsh political lobbying organization Positif Politics.
There are few better platforms for examining contemporary life than the cruicible of Sport and 'In the Zone' is well equipped to provide insightful, evidence-based analysis of local and global issues in the Politics of Sport. Russell Holden teaches with a high level of intellectual energy. His lectures, seminars and workshops engage students with the most recent practices of sport politics and invite theoretical explorations that can be tailored to suit many levels of learning.
Professor David Botterill, Professor Emeritus, University of Wales and Visiting Research Fellow, University of Westminster
Capitalising on its rare combination of skills In the Zone offers expert analysis and insight on a range of issues including;
The role of sport in promoting national prestige, loyalty, identity and patriotism.
Guidance on the formation and evolution of policy on sport, public participation and its economic impact.
The complexities of the governance and the promotion of transparency in international sport.
Issues of morality and human rights and how this impacts on participation in international sport, most notably with respect to sporting boycotts.
The teaching of sport in the school curriculum as an academic discipline in secondary and higher education.