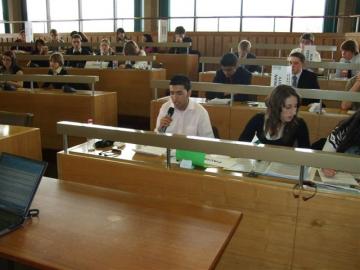 Higher Education & Schools
Russell has many years of teaching experience, having spent much of his career in Higher Education lecturing in the the fields of the Sociology of Sport, the Political Economy of Sport as well as British Politics and International Contemporary History, notably Britain's complicated relationship with the EU.
He has taught students at undergraduate and postgraduate levels and has substantial experience of teaching adults having lectured for the Workers Education Association, and a range of University Continuing Education Departments. In 2016 Russell ran a One Day Summer School for Oxford University Continuing Education Department on The Political Economy of Sport. He is a also an accredited Open University lecturer.
Russell has taught at Cardiff Metropolitan University, Southampton Solent University and at the University of Worcester and has also been part of review panels and validations for degree schemes at Edge Hill University and at St. Mark and St. John University, Plymouth.
His international experience includes teaching at a two German Universities – Technical University Braunschweig, Harz Hochschule, Wenigerode, in addition to Northwestern University, Chicago, The University of Applied Sciences, Kufstein, Austria and the Jagellonian University, Krakow, Poland.
There are few who can inspire students through their teaching. I have it on good authority that you are one who can and has. But this aspect of our work often gets 'invisibilised' in the audit culture of Higher Education – Professor Scott Fleming (Sport and Leisure Studies) Cardiff Metropolitan University

Through his schools contacts Russell has and continues to offer lectures, seminars and workshops for GCSE and A'Level school students on a range of aspects of international sport and diplomacy.
In my final year I was fortunate enough to have Russell as my dissertation tutor. I am enormously indebted to Russell's motivation, encouragement and availability to give academic guidance which helped me to both find and sustain a suitable historical context to write about a topic which has always fascinated me. I benefited greatly from Russell's counsel as a tutor and course director and he played a large role in my achieving a first class honours degree – George Newth student, Cardiff Metropolitan University
In the Zone offers
Specialist lectures, seminars and workshops for both Higher Education and secondary school students.
Mentoring and guidance for students wishing to enter sport as a journalist, administrator or strategic policy-maker.
Practical advice on how sport related themes can be incorporated into other specialist subjects.