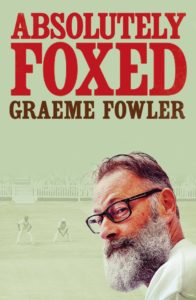 Graeme Fowler former England Test cricketer, respected coach, contributor to Test Match Special and mental health advocate was the guest speaker at the most recent In the Zone Sport and Politics at the Tea House Evening on Friday November 11th.
Find out more about the Sports Politics Tea House and how to attend below.
Since its launch, In the Zone has been keen to take its activities into the public domain through a variety of imaginative schemes. With the launch in 2010 of the Sport and Politics at the Tea House in conjunction with Waterloo Tea in Cardiff, a number of special evening events have been run at which leading sportswriters and sportspersons have spoken about their involvement in major sporting events and how these have been reported  and used for political and commercial gain. In each case, the venue has been packed out, with the evenings providing rich stimulation and provocative discussion in an intimate and relaxed environment.
Guest speakers have included;
Henry Olonga, Former Zimbabwe Test Cricketer
Scyld Berry, Sunday Telegraph Cricket Correspondent & former editor of Wisden Cricketers Almanack
Steve James Sunday Telegraph Cricket and Rugby Correspondent, and former England Test Player
Neil Manthorp, South African Writer and Sports Broadcaster best known for Cricket Commentary
Michael Owen, Former, Captain, Welsh Rugby Team
Dean Allen, Sport Historian and Academic
David Goldblatt, Sportswriter, Broadcaster, Journalist and Author
Rob Steen, Award winning Sports Journalist and Academic
Jarrod Kimber, Cricket Writer and Co-Director of  Death of a Gentleman
Dean Wilson, Daily Mirror Cricket Correspondent and regular  BBC Test Match Special Contributor
If you are interested in being a guest at Sport and Politics at the Tea House please contact Russell.

Attending the Tea House
If you'd like to come along to the Tea House – come along at 7pm on Friday November 11th.
Waterloo Gardens Teahouse, 5 Waterloo Gardens, Penylan, Cardiff,
CF23 5AA
It has been a pleasure to work with Russell for a number of years on the Sports and Politics events.Russell has been a magnet for attracting well known figures in the sporting world to the Waterloo Tea House. During the talks Russell has effectively chaired discussions, as well as extract detail from speakers in a way that only someone who has a deep understanding and passion for the topics could. This combination of skills has led to events being both very well attended and successful in creating a new sphere of discussion within South Wales, in a manner that attracts visitors from all walks of life.
Kasim Ali, Founder, Waterloo Tea